PEDRO KASTELIJNS
work
exhibition/
Construção
info/contact
Construção, installatin view, Gerrit Rietveld Academie, Amsterdam (Netherlands),2022.




Construção, singing performance.


Construção

Construção
Construção,
Esse prédio saiu da minha mão, construção

Cimento,
Pedregulho,
Adobe
e terra moiada x3

Não se esquece da porta, não não não
Não se esquece da porta, e do teto e do teto
Não não não se esqueca da

Cimento,
Pedregulho,
Adobe
e terra moiada x3



Construção, presented at the Rietveld Graduation Show 2022 consisted in a series of works on paper, two sculptures and an a cappella singing performance.

The main inspiration for the project are the perfect and impenetrable brick walls we might walk by in Amsterdam in relation to the imperfect, often chaotic and geometrically broken constructions and walls from my homeland Brazil. On city walls, both in Amsterdam and Brazil, recordings of anonymous passers-by such as a kid's drawing, a poster, a tag can amalgamate and layer up to create novel compositions. Similarly, my work draws from these odd, arbitrary, improvisational compositions we walk past every day.

Combining my artistic practice with my music practice I have come to incorporate vital aspects of music, such as rhythm, composition, improvisation in my paintings, thinning the boundaries between sound and shape.
My musical work -which varies from poly instrumental tracks to raw and vulnerable voice performances- takes shape in the graduation project as Construção, an a cappella performance meant to bridge musicality and spatiality.

This architectural and sonic sensibility is enriched by elements and symbols belonging to my personal mythology: for instance Manivela -recurrent character in my paintings- is a hand decorated by a brick pattern holding a spoon carrying a candle. Manivela, in its effort to navigate life, carries the experiences of migrating from Brazil to the Netherlands, of finding a path, of structuring and standing alone -like a brick wall- but also of playing and molding the reality around him.





left, Manivela/Manivela concrete/I'm very strong/Go.... right, Stay/Birds fly.




Dog Variations, mixed media painting series.




up Manivela/Sunset, bottom (center) Caixa Preta/Brazilian rainbow.




left '......M', center 'Manivela/P?', right 'Manivela/MP'.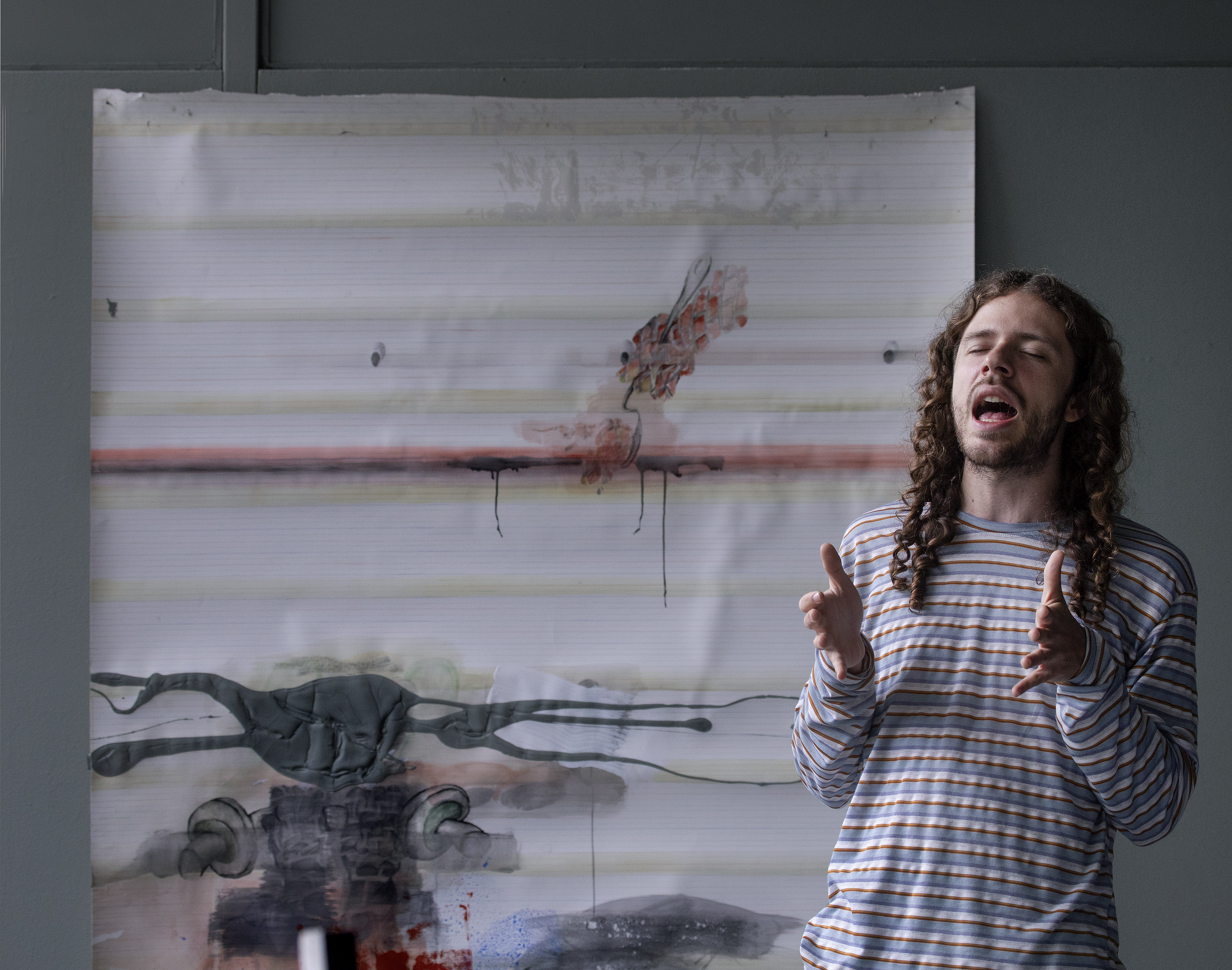 Documentantion of Construção, singing performance.


Photo credits to Gert Jan Van Rooij and Nell Schwan.




back to top